VGC School of International Business is proud to present to you Applied Communications, their brand new diploma program. Offered as a 1-year Diploma or 2-year Diploma program with Co-op, Applied Communications provides students with the communicative competency they need in order to effectively develop their professional portfolio to work in Canada and the worldwide job market.

In an age of digital, global business, effective business communication is essential for the success of every organization. Understanding the importance of different communication methods for internal and external business communication is critical in order for a business to operate at peak level.

Over the course of the first year, students will complete the academic portion of the program in 2 terms: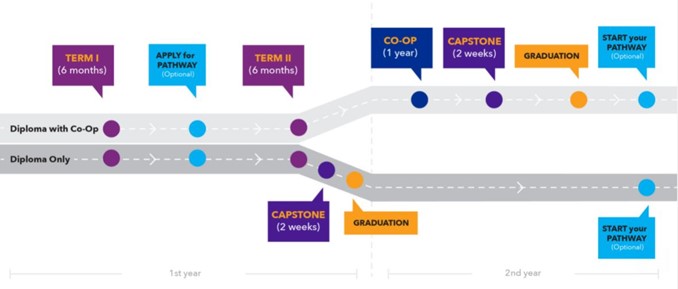 Term 1 focuses on the foundations of communication through a set of 3 courses that build on each other. The school's Communications courses will equip students with high level interpersonal and intercultural communication skills. They will learn strategies for understanding complex ideas and analyzing them with a critical eye. Through presentations, debates and discussions students will learn how to objectively and persuasively deliver ideas to be successful in an academic or professional environment.

In term 2 students will learn about a variety of business fundamentals and will deepen their knowledge through different compulsory and elective courses. These courses will equip them with the necessary skills to succeed in a Canadian workplace as well as developing their fundamental business knowledge. After completion of term 2, students can either continue with a 1-year paid Co-op experience or start their pathway directly.

Please note:
After the completion of term 1, students will have the grade equivalency for a pathway and will be able to apply for direct entry at one of VGC's partner institutions, without having to take an IELTS or TOEFL test.
For more information, please visit the school's website.