We help you stand out from the competition!
The benefits of being a Quality Agent: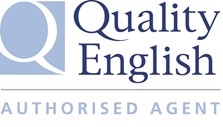 The right to use the Quality Agent logo
The Quality Agent certificate
A presence on the Quality English and Quality Education website under the 'Find an Agent' section of your partners' pages
Regular agent e-newsletters
Access to marketing and networking events and training webinars
Easily grow your business network and stay up-to-date regarding new projects, ideas and cooperations
Full listing of key contacts at all of the Quality English schools and Quality Education Colleges
How do I become an Authorised Quality Agent?
Start by working with at least THREE schools and/or colleges, i.e. you are actively sending them students. (Please note that it is not sufficient to communicate with a school or sign an agent agreement.). We require references before you can become a Quality Agent
Complete the Quality Agent Application Form
The Chief Executive will then follow up the references provided
If we receive three positive references you will be invited to become a 'Quality Agent'
Your details will be published on the Quality English and Quality Education website and you will receive the Quality Agent logo and certificate
Please contact our Marketing Executive Kathi Gerth at kathi@quality-english.com for more information.