Every Friday, DISCOVER NYC allows Manhattan Language students to practice their English outside the classroom while they explore authentic New York culture.
Manhattan Language, the popular boutique school located in lower Manhattan in New York City, is launching a new concept for all its programs that includes 4 days of English lessons in their beautiful school in the Wall Street area (Monday to Thursday) and the optional DISCOVER NYC FRIDAYS.
DISCOVER NYC FRIDAYS are English lessons that take place outside of the classroom at popular New York landmarks and neighborhoods. On DISCOVER NYC FRIDAYS, Manhattan Language students will go out with an ML teacher or staff member to practice their English with other students while they take in authentic New York culture.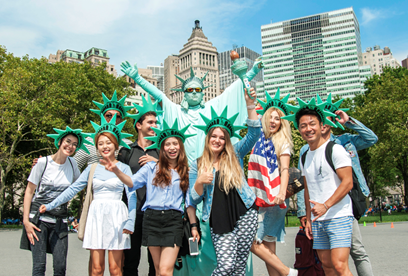 DISCOVER NYC FRIDAYS is a new and exciting addition to the Manhattan Language English training method, and the perfect complement to the quality and affordable programs that the school offers at their fantastic location at the Financial District in New York City.
"We are very excited, and we can't wait to launch DISCOVER NYC FRIDAYS. The response from our students was super positive when we presented this concept to them, and our agents seem to be on board too. I believe they see the great potential for promoting this unique program: 4 days of quality English instruction plus DISCOVER NYC FRIDAYS", said Bonita Vander, the Director and founder of Manhattan Language.
DISCOVER NYC FRIDAYS is a bonus available to all students attending a program at Manhattan Language, regardless of their specific program or visa status.
Best of all, the cost of DISCOVER NYC FRIDAYS is included in the tuition price. DISCOVER NYC FRIDAYS will take place in locations or venues that either offer free access or access at a very small cost. Of course, if a student wants to grab a coffee or a drink while enjoying a cool, photo-ready slice of New York, that would be on him or her!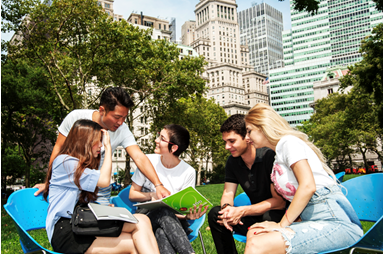 "I honestly think that this is something that students will value significantly, because the idea of learning English in New York City is unmistakably linked to the idea of getting to know the city and its unique culture and diversity. DISCOVER NYC FRIDAYS is a fantastic concept that will surely position Manhattan Language to be the top choice for students who want to be immersed in New York City life while learning English in the true capital of the world", pointed out Daniel Rojas, the Sales and Marketing Manager at Manhattan Language.
Manhattan Language has been offering quality and affordable English courses to international students for more than 20 years from their excellent location in downtown Manhattan. Their course offerings include General English, Exam Preparation, Business English, Academic English, Pathways Programs, one-to-one English instruction and special programs for groups. The school is renowned in the industry because of its friendly and supportive atmosphere and for the very high rate of student satisfaction.
You can find our more here.