The Lewis School of English is excited to announce a brand new performing arts programme for junior groups aged 11-17. Available year-round, the course guides students through the process of preparing an outdoor show, which is then performed on Southampton's historic streets.

Promenade is an outdoor form of theatre where both the actors and the audience move from place to place during the performance. During the week-long course, students develop skills in storytelling, performance techniques, playing to an audience and working from a script.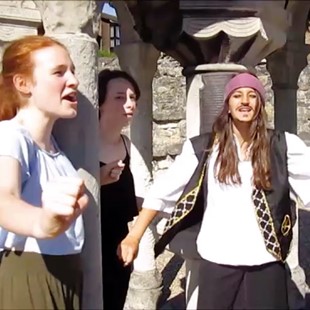 The course is ideally suited to higher-level students, with theatre tuition replacing English lessons to enable students to consolidate their existing skills, learn by doing and express themselves with confidence. The programme also includes trips, local visits and other social activities to maximise the cultural benefits of visiting the UK. Accommodation can be either residential or in homestay.

Lewis has been running performing arts programmes for over 10 years now, with other offerings including in-school programmes available worldwide, online storytelling projects, a summer Theatre Camp (returning in 2022) where juniors meet British students, and its other year-round offering for junior groups, English & Theatre, which is suitable for all levels of English.

To find out more about any of these enticing programmes, visit the Lewis School of English website.