Greetings from VGC International College, Vancouver.
What a turbulent first half of 2020 this has been! We hope everyone is healthy, happy and safe, wherever you currently are in the world. But, while the world went on pause, we created a new program that revolutionizes language learning from home: Express English.

We don't know what your plans for the year were, but we wanted to tell you about this. Because no matter what your schedule currently looks like, Express English is designed for anyone wanting to improve their English skills.
Watch their video here to learn more!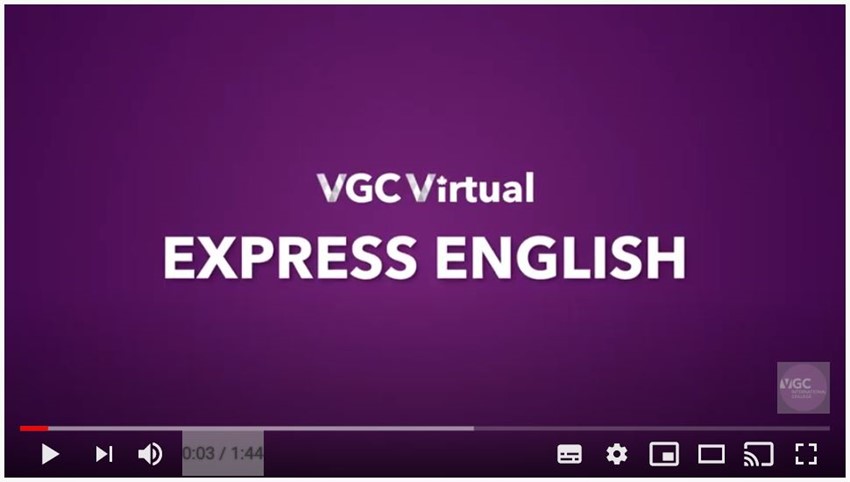 Here are our top reasons why Express English is the best option to learn English online:
> Tailored to YOUR needs: Three different courses specifically designed for Beginner, Intermediate and Advanced level English students. Go to VGC.ca to see pur different options and how to get your level tested for free.
> Interactive live-sessions: Opposed to language apps and pre-recorded sessions, you'll enjoy compact classes with no huge time commitment! Our classes are instructor-led, interactive and will provide personalized feedback!
> Affordability: Our CLASS PASS PROMOTION gives you a weekly all access pass to all courses at all times!
> Multicultural environment: bring the world into your home! Our students come from many different places and you'll enjoy the perks of an international college from the comfort of your home! Make friends with your classmates from all over the world!
> Flexibility: Each course is delivered live twice per day and fits the international time zone demands. You can pick the lessons you want to join, as well as how many times you want to join. All at YOUR convenience!