During the month of September, WESLI - Wisconsin ESL Institute - has focused on providing students with opportunities to give back to the Madison community through volunteering locally. Situated in the midst of Madison's downtown area, WESLI students are submersed in a rich, multicultural environment with many opportunities to connect with the surrounding communities.

Over the past month, WESLI has participated in a variety of group volunteer events. These events have been geared towards all students, offering a variety of options for individuals to try something new.

In partnering with the University of Wisconsin-Madison's Arboretum, students were given first-hand experience in ecological restoration and sustainability. Volunteers participating in this event helped remove invasive plant species while managing the healthy native plant communities.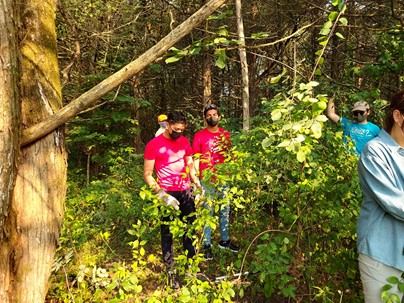 WESLI students also volunteered for IRONMAN Wisconsin and Art Fair on the Square (hosted by Madison Museum of Contemporary Art). These large, regional events allowed for students to practice their English speaking skills while interacting with local artists and athletes.

In addition to group volunteer events, WESLI is also working to match each interested student with ongoing volunteer opportunities according to their unique interests. WESLI students are encouraged to pursue ongoing commitments at non-profit organizations that align with their passions or future aspirations during their programs. Currently, students are being matched as volunteers with the City of Madison Parks Division, Blackhawk Church Children's Ministry, Riverside Food Pantry, Underdog Pet Rescue, Creando Language School, and more.
As WESLI continues to grow, the school will continue to expand volunteer opportunities, allowing WESLI students to identify as active members of the Madison community. Students can customize their English PLUS experience with WESLI's volunteering for an English + Volunteering program. WESLI has taught English since 1981 in Madison, Wisconsin, USA.