Many students from Peru group experienced snow and winter activities for the first time! WESLI hosted a Junior Winter Camp in Madison, Wisconsin, USA.

Over the 4-week camp, students learned about Wisconsin culture and life in winter. The group skied for the first time with lessons and time on the hill. Ice skating was also a new adventure for many. The group tried indoor and outdoor ice skating at local parks. Capturing the season of ice, students visited Ice Castles – a castle wonderland completely constructed with just snow and ice!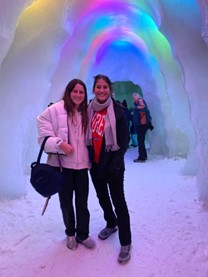 Madison's large lakes freeze over in the winter, so students were able to walk across and capture skyline views that otherwise are only able to be captured by boat during warmer weather. In addition to walking on water, the students sled down a few hills catching some speed and air on the jumps on the University of Wisconsin – Madison campus.

Madison is the capital city of Wisconsin, so students were able to tour the State Capitol Building. They also visited local museums for art and Wisconsin's history. Students also visited Milwaukee, Wisconsin and toured the Harley Davidson Museum, the Historic Third Ward, and the Milwaukee School of Engineering.

Many students were traveling alone for the first time for the Winter Camp. As part of the activities and classes, students were guided to grow in independent skills like cooking, laundry, using public transportation. Some activities included university tours at University of Wisconsin – Madison, Madison College, and Milwaukee School of Engineering.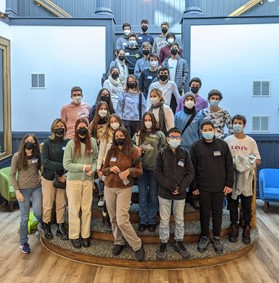 To finish the Winter Camp, students completed a final project to reflect on their experience and share their meaningful memories before they depart. WESLI looks forward to offering the Winter Camp experience for juniors next year and a Summer Camp for 2022!
Find out more here.