Atlantic Language Galway is delighted to let you know that bookings are now coming in nicely for the school's new International Young Adult Programme, taking place from 29th June to 24th July, along the Wild Atlantic Way in Ireland.

This new and exciting programme is ideal for young adults from 16 to 19 years old, seeking a more independent learning environment to prepare for university and workplace, learning English while discovering Ireland through an exciting and inspiring experience. The course is available from A2 (pre-intermediate) to C2 (proficiency).

The timetable for activities is tailor-made for students who are at a pre-university stage and are ready for a more specialised programme. The afternoons and evenings are filled with cultural and social activities to suit their needs but also to encourage the learning process.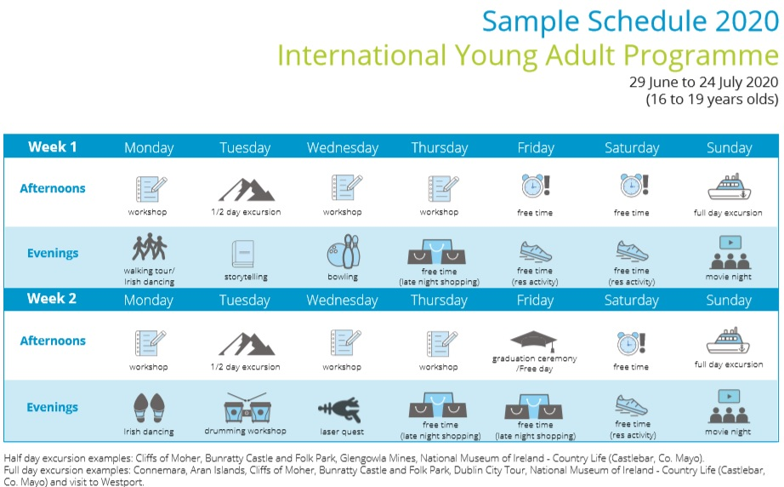 The course includes 3 afternoons of workshops with projects that are tailored to CEFR level. Sample projects include:

Workshop 1: 21st Century Skills

Students will develop important skills, such as:
• Critical thinking;
• Problem solving skills;
• Time management.

Workshop 2: Irish and International Culture

Learn about Irish and other international traditions, literature and culture.

Workshop 3: World of Work

Lessons include:

• CV and cover letter writing;
• Communication for the workplace;
• Mock interviews.

Residential campus accommodation is available on site, including all meals. The programme will take place right in the middle of Galway 2020 European Capital of Culture, which is promised to be a very exciting year on the West Coast of Ireland. Atlantic Language expects a lot of cultural and social events to celebrate their beautiful city.

Learn more about this programme here or watch the video!