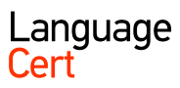 Kurus English in Cape Town is proud to announce the recent approval as a LanguageCert testing-centre. LanguageCert offers an accurate, internationally recognised General English level test for language students and opens a new door of possibilities for Kurus English's students.
Mishka Samsodien, Academic Manager at Kurus English points out: "Being a LanguageCert test centre will give our students the opportunity to not only leave with a certificate of completion but also with an internationally recognised certificate which is easy to access and can be taken without a special preparation course."
"It is amazing that we can now offer our students a test which is internationally recognised, at an affordable fee. And we hope that language travel agents will include this additional service in their offer to prospective clients even before the commencement of their course at Kurus English in Cape Town", adds Johannes Kraus, Owner and Director.
Other Quality English LanguageCert Test Centres:
Academic Summer, UK
ATC Language Centres, Ireland
Atlantic Language Galway, Ireland
BLS English, UK
Bristol Language Centre, UK
Capital School of English, UK
Cork English College, Ireland
ECS Scotland, UK
Emerald Cultural Institute, Ireland
ESE Malta, Malta
Galway Language Centre, Ireland
Kurus English, South Africa
Languages International, New Zealand
Lewis School of English, UK
LILA*, UK
LSI Portsmouth, UK
Mackenzie School of English, UK
Melton College, York, UK
Millfield English Holiday Courses, UK
Southbourne School of English, UK
Torquay International School (TIS), UK
Worldwide School of English, New Zealand