The moment we've all been waiting for has arrived – summer is finally here in California!
As the temperature rises, College of English Language is excited to share all the incredible experiences that await their students beyond the classroom in two of our vibrant locations: San Diego and Los Angeles.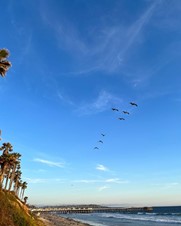 In San Diego, their students prepare to be captivated by the stunning beaches, where they can soak up the sun, surf the waves, or simply unwind with a good book. Taking a stroll along the iconic boardwalk of Mission Beach, or exploring the tide pools and cliffs of La Jolla Cove. The famous Balboa Park offers a blend of art, culture, and lush green spaces, while the historic Gaslamp Quarter beckons with its lively nightlife and diverse culinary scene.


Meanwhile, in the bustling metropolis of Los Angeles, the summer brings endless possibilities. The CEL students explore the glitz and glamour of Hollywood, visit renowned museums like the Getty Center, or take a scenic drive along the stunning Pacific Coast Highway. For a taste of nature, they hike up to the Griffith Observatory for breathtaking views of the city.


Both San Diego and Los Angeles come alive with vibrant festivals and events during the summer. From the world-famous Comic-Con in San Diego, where pop culture enthusiasts unite, to the exciting music festivals and street fairs that grace the streets of Los Angeles, there's something for everyone. 


While CEL remains committed to providing their students with top-notch language education, they also encourage them to step out and embrace the summer season in California. Dive into the local culture, make friends from around the world, and embark on unforgettable adventures.