Languages United students have witnessed Bath become enlivened with the recent filming for the upcoming Wonka movie, some of which occurred practically by the school's front door.

Crowds formed to see fake snow issued on the steps of Parade Gardens and by the Abbey. Complex filming equipment from Warner Brothers towered overhead, and made for an exciting contrast with the Georgian architecture.

Most notable was the presence of Timothée Chalamet, the star of the movie. Though the actor was seldom seen in public, local photographer Jamie Bellinger (@jmblgr) managed to capture some amazing shots of him as production was underway (see more: https://www.jamie.photo/gallery/film)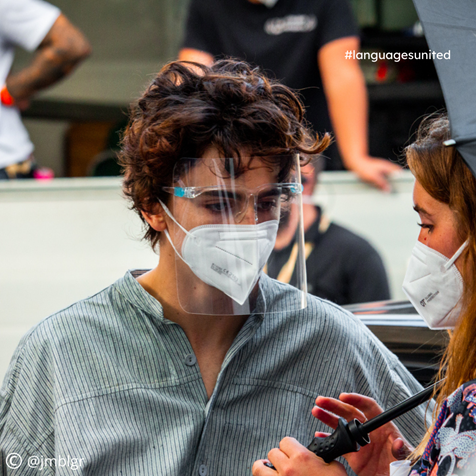 The upcoming prequel to Roald Dahl's Charlie and the Chocolate Factory, simply titled Wonka, isn't the first time Bath has been immortalised on screen. Just recently, filming for the Netflix sensation Bridgerton commenced for its second season.

In June, filming for the upcoming adaptation of Persuasion by Jane Austen took place. The team at the school managed to see some of the film's stars, such as the immensely talented Dakota Johnson, working on scenes outside of the Royal Crescent.

Prior to this, another production for Persuasion had been based in Bath, with the 2007 ITV movie also opting to use the actual location of the story to film.

The acclaimed 2012 adaptation of Les Misérables, which was directed by Tom Hooper, used Pulteney Bridge for re-shoots, while the 2007 film The Duchess, which stars Keira Knightly, used some of Bath's famous spots to tell the story of 18th century English aristocrat Georgiana Cavendish, Duchess of Devonshire, including the Royal Crescent and the Assembly Rooms.

Bath has welcomed grand period pieces like 2004's Vanity Fair, but it's also been the inspiration for other types of cinema too. Wes Anderson's 2009 movie Fantastic Mr Fox (also based on a Roald Dahl book) used The Little Theatre as the basis for one of its set pieces.

It's exciting that such notable productions utilise Bath so often, and witnessing it makes the experience for Languages United students that much more memorable.