November has been a very eventful month for students at WESLI!
Between hockey games, football tailgate events, game nights, and local trips, the students have been busy experiencing the local culture. Not only have these activities provided students with opportunities to connect with one another, but the outings also create opportunities to be an active participant in the Madison community.
Located just a short distance from the University of Wisconsin-Madison (UW) campus, WESLI hosted two Badger game day events during the month of November. On November 6, students met for a Badger Women's Hockey Game. For most of the school's students, hockey was an unfamiliar sport; attending the game in person provided the students with a new experience! Several students commented on how much they enjoyed the sports activity: "It was really fun to learn new hockey vocabulary and the crowd chants," said Milagros (Panama).
On November 20, WESLI students met for a Badger football tailgate party. Here, students listened to the nationally-acclaimed Badger marching band and enjoyed local tailgating foods including the traditional bratwurst.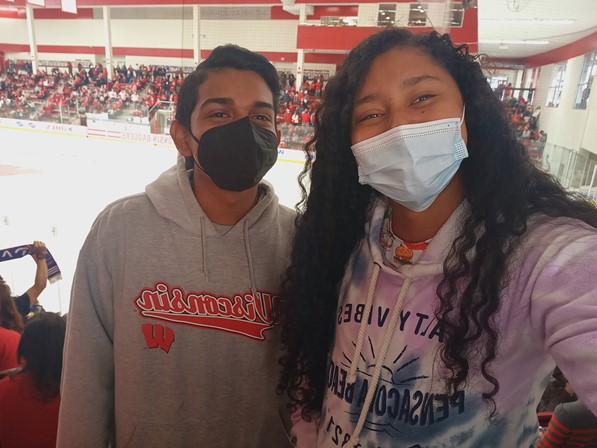 Aside from the UW Badger sporting events, WESLI students also took a trip to Milwaukee last month. The trip was self-guided, allowing for students to explore Milwaukee in small groups. Most of the students chose to visit Lake Michigan - the largest of the Great Lakes - , enjoy local restaurants, and walk through the Historical Third Ward - a preserved historic district in Milwaukee with shops, food, and entertainment near the city's river.
In addition to their larger trips, WESLI has also been hosting monthly WESLI Family Game Nights which takes place at WESLI and includes games, crafts, movies, and seasonal snacks. During these events, students are given a familiar, comfortable space to bridge the gap between classmates and friends. Moving forward, WESLI will continue to offer a mixture of large group events and smaller, more relaxing Family Nights to provide an opportunity for students to connect across cultures and locally as part of the immersive experience.