Welcome to the Viva Café at The Linguaviva Centre in Dublin!
The school has just finished modernising this space, so as to offer their students and staff have somewhere spacious, cool and welcoming to start off their day.
The Linguaviva team loves seeing their international community mixing and sharing valuable experiences again as they enjoy a hot drink and relax. At Linguaviva it is ALL about the human connection and the school strongly believes that meaningful learning happens as much outside of the classroom as it does inside.
Of course the café is only the first of their projects. They have since upgraded their classroom furniture and gotten started on modernising their admin offices too. The team is looking forward to Covid restrictions becoming a thing of the past and human beings getting back to what they do best which is socialising. That is why the school is making sure their staff and students have a beautiful place they enjoy working, learning and spending time in.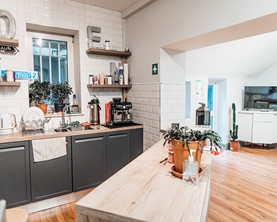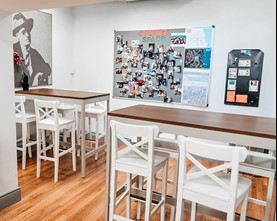 The Viva Café will always have some tunes playing in the background and a smiling member of staff ready to make you a delicious coffee and ask you about your day. So, next time you are on Leeson Street Lower find the school's red door at number 45 and come say hi.
The Linguaviva team would love to show you around their ever evolving space and tell you more about their ongoing plans for the centre.
Stay tuned, more coming soon!