Summary of the differences between online English learning and traditional study
How does LSI Portsmouth ensure high-quality online English language courses?
As many schools, LSI Portsmouth transferred their courses online in March and try to maintain the same quality that made them joint top school in the UK has been key to the successful changeover.
In this video, their Director of Studies Ross McKenzie discusses some of the differences with their Digital Marketing and Online Teacher Trainer Adam Gallie.  Ross makes a list of points which help to make sure that LSI Portsmouth's online lessons are of the best possible quality and comparable to the quality of the physical classroom. Those points include:
The online courses use exactly the same teachers who deliver the face-to-face lessons.
All the teachers are well-trained to deliver online classes.
The techniques applied in the face to face courses are the same as the online ones.
Directors can observe and drop into lessons to check quality
Lessons can be recorded
teachers get together for regular workshops on online teaching.
Ross and Adam talk about the challenges - but both have found some advantages over face-to-face teaching, with some teachers even preferring the online method:
online teaching makes it easier for the student to have a record of the lesson - slides and recordings can be sent after the lesson.
Students remain focused and on task
a more efficient method of recording student errors - noted in real-time by the teacher, then the screen can be shared with the student and emailed 
monitoring can be done easily in breakout rooms, with the distraction of 10 other students in the classroom
Students are relaxed and seem less self-conscious about making mistakes
Click below to watch the video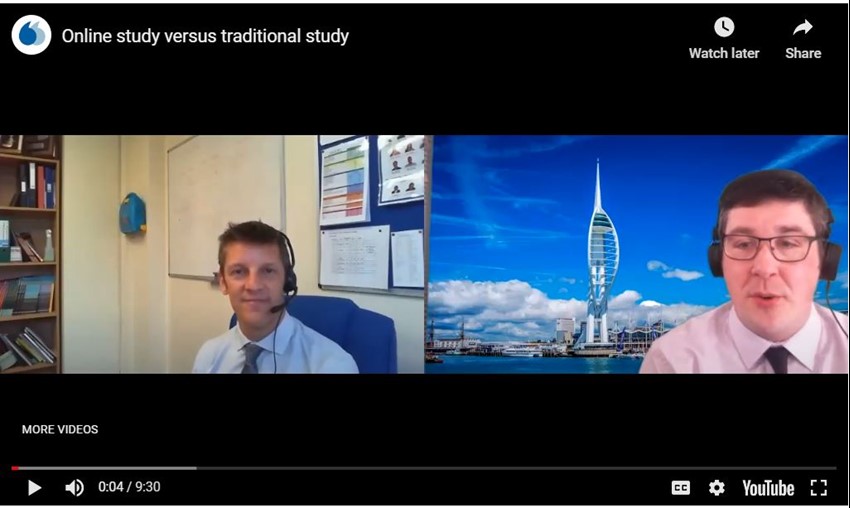 Contact emma.hoyle@lsi-portsmouth.co.uk for more information.