CEC Sports Academy brings together the perfect mix of academic, sport and social to ensure that the student leaves CEC with memories that will last a lifetime.
Cork English College is delighted to announce the launch of CEC Sports Academy 2017, for their junior Summer school. The Sports Academy offers a wide variety of sporting interests to compliment English language courses.
CEC ensures their students receive premium level tuition from their dedicated teachers base, as well as access to the highest quality coaching in their sport.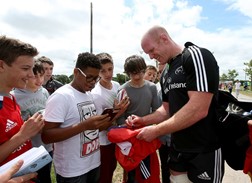 CEC has built a strong relationship with the Munster rugby team.  Some of the finest rugby coaches work with their students.  CEC also ensure students have access to the best facilities available. Their golf program is now our fastest growing program. They run this program in Fota Island Golf course which has held the prestigious European event, the Irish Open 3 times.
For horse riding enthusiasts, they run a program based in the tranquil Hop Island Equestrian centre only a 5 minute drive from their junior school. For students who want it all, CEC also offers a multi discipline program; they also cater for this, giving students experience with a variety of sports.
Commenting on the CEC Sports Academy, Marc Cullen, Marketing Director at CEC said: "We believe if we support, educate and encourage our students, they will naturally develop their talents, as well as improving their English without even realising it."