What a week of awards it's been for CEC – Cork English College as the school was awarded Best Language School 2020 at the Irish Education Awards & Cork Business of the Year at the Cork Business Association Awards.
Launched in 2017 the Irish Education Awards have celebrated quality, innovation & excellence in the Irish Education Industry. The judging panel looked at organisations background, academic and professional qualification of staff members, courses and services provided, and the relevant industry experience, achievements and accreditations on offer. With nine other English Language Schools from all over Ireland shortlisted in the category, the competition was stiff, but CEC were honoured to take the accolade back to Cork for the second year in a row. This prestigious award is a testament to the continued great work of the CEC directors, academic department, teaching staff and administration team within the last 12 months.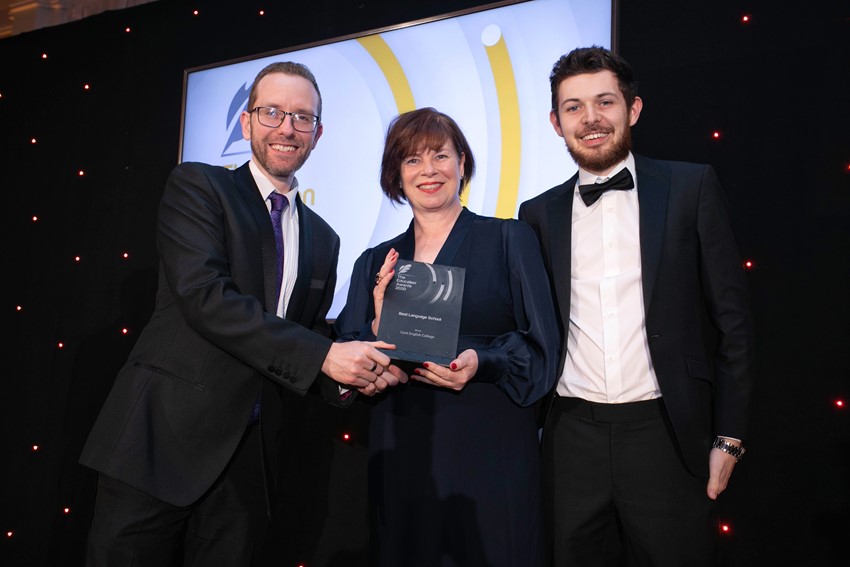 Less than 48 hours later the Cork English College was named Cork Business of the Year at the annual Cork Business Association Presidents Dinner & Awards. Taking place in Cork's Vienna Woods Hotel the CBA's aim is to recognise the value and achievement of Cork businesses who have contributed to or promoted the enhancement of the commercial & cultural fabric of Cork City, and to encourage continued business excellence in the city. With a record number of entrants to this year's awards, CEC were honoured to be named "Cork Business of the Year". Founded in 1978 and still to this day a family run business, in 42 years CEC has welcomed over 62,000 international adult & junior students to Cork and this award recognises the ever-constant dedication and contribution of the school to commercial life in Cork.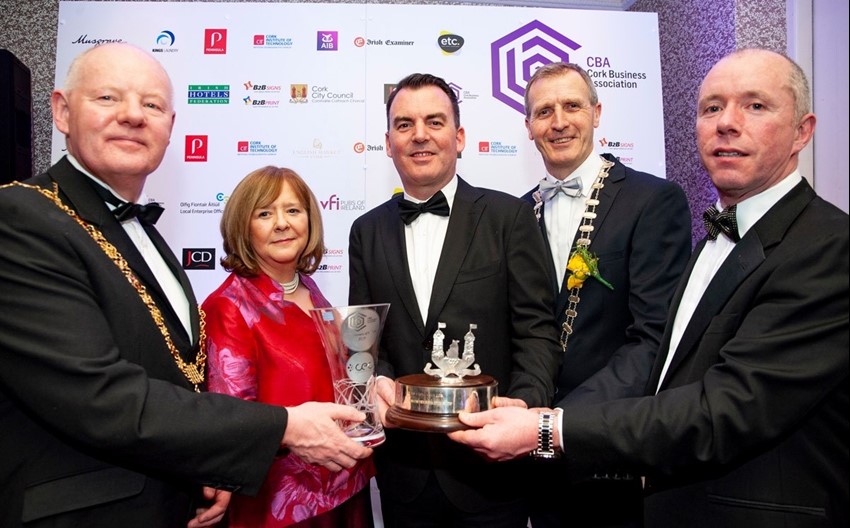 Commenting on both awards, director Marc Cullen had this to say; "We are absolutely delighted to have won such prestigious awards this week. For the second year running we have won the Best Language School at the Irish education awards and we then won the Business of the Year award at the CBA awards ceremony. These awards reflect the hard effort, professionalism and dedication to quality that have enabled CEC to grow from strength to strength over the past 42 years."
2020 has seen the introduction of a number of new programmes and partnerships to the CEC portfolio. Including a new adult Afternoon General English programme, Occupational English Test (OET) preparation programme and CELTA Teacher Training programme. As well as a new Young Adult Programme and all new partnership with Spanish football club CF Valencia for our English + Football Programme to complement the school's Junior course offerings. All of which serve to enhance CEC's reputation as one of Ireland's leading English Language & Examination schools the year ahead and beyond.