It's official; CEC - Cork English College is a Cork Digital Marketing Awards winner! What a night on Friday, October 11th, at Cork International Hotel. CEC is delighted to have won 'Best Use of Facebook' (20 – 50 employees). The Digital Marketing Awards recognise the remarkable successes and achievements of businesses using digital media to enhance the consumer experience through digital, social and online work in our local digital community of Cork.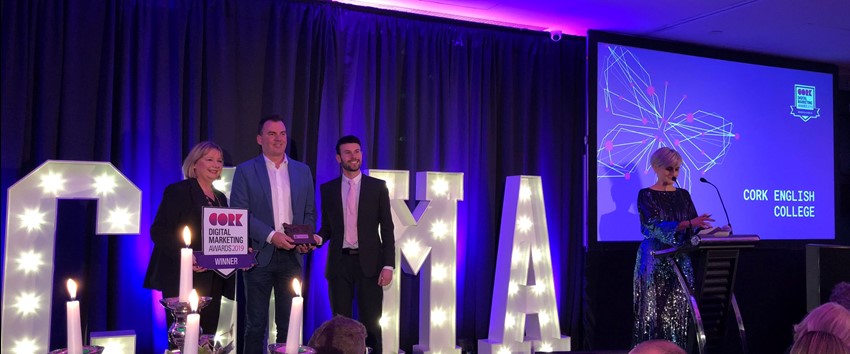 Just as CEC were about to be announced as the winner for 'Best Use of Facebook', they were complimented on their Facebook strategy, their well created content with great engagement from the audience and it was said that the school made the brand feel personal.
CEC is a home away from home for all their students and they believe the personal touch is very important. It is their core value, so it was great that the school was recognised for this through their social media as well! From sharing photos of student trips, student birthdays, classes, and the student experience in general, people feel a sense of community through the school's social media too as it's another way for them all to connect with one another.
The school would like to thank all of their followers for engaging with them online each and every day. This is your win too! CEC continues to look forward to engage with all their followers and to grow their online community together. Congratulations to all of the other winners at this year's Cork Digital Marketing Awards 2019! It was a great celebration for all the digital marketers in Cork to come together.